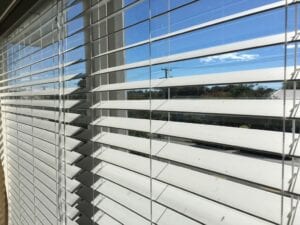 Are Venetian blinds in NZ still trendy? Or have they fallen out of favour? We get a lot of enquiries at Total Look Blinds from people interested in Venetians. They themselves like the way they look – but they're worried they might no longer be in vogue. We tell them the same thing we're about to tell you: Venetian blinds are still a great choice for your home or office.
Back in the 1960s, 1970s and 1980s, Venetian blinds were everywhere in New Zealand. They became the window furnishing of choice in most homes and offices around the country. One of the biggest reasons for their popularity was their ability to control how much light entered a room. They didn't have to be shut completely to regulate UV rays and glare – a home or office was still able to enjoy plenty of natural light – but not TOO much.
However, coming into the 1990s and into the 2000s, Venetian blinds were overshadowed by curtains and vertical blinds. Thankfully, in recent times, they've made something of a comeback and are enjoying renewed popularity. Part of the reason for this is what made them so popular in the first place: the ability to control the amount of light coming into a room. But there are other factors at play too. One of them is their renowned durability: our Venetians are made from an extra-thick aluminium slat that gives them great strength while the Uniline patented Privasee crimp gives better closure than other blinds on the market.
Because they're made from aluminium, they are resistant to moisture and hard-wearing, which makes aluminium blinds the perfect choice for windows all through the house, including "wet areas" like bathrooms and kitchens.
Let's put aside all practical things for a moment and focus on how they look. Modern designs mean aluminium Venetian blinds look stylish and classy, as you'll see when you check out our gallery. The sharp lines and wider range of colours than ever before make our Venetians a stunning match with every colour scheme and decor. They're as beautiful as they are hard-wearing, and their renewed appeal can be based on this combination.
Finally, we can't end this post without talking about keeping Venetian blinds clean. In years gone past, cleaning the slats was a perceived issue with these blinds. Not any more! New tools on the market make Venetian blinds so much easier to clean, right on a par with other blinds on the market. So don't let the prospect of cleaning them turn you off.
In fact, there's nothing about modern Venetian blinds to turn you off the idea of investing in them. They're better than ever and very much in vogue. Contact us and we'll further explain why they're not so "old fashioned" after all.