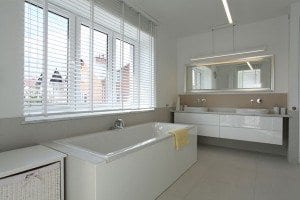 When it comes to dressing and treating your windows in your bathroom, there are two main considerations to keep in mind: light and privacy. You want to enjoy your bathroom, and a lot of that enjoyment comes with an influx of natural light. However, you also need to be assured your privacy. So how do you get the best of both worlds? Which are the best window dressings for your bathroom?  
Venetians for Optimal Control
Venetian blinds
have been used in bathrooms for a long time and are very popular because they allow you to get both light and privacy simultaneously. The many small slats that make up venetians allow you to easily control the amount of light you let in. They also easily allow you to turn the slats either up or down. When they are turned down, you get complete shutting out of light and peeping toms, but when the slats are turned up, you get a sort of opaque light and privacy while still being able to see outside the windows. Venetians, especially if made from aluminium, are also very durable and do not have much in the way of oxidising properties, which makes them perfect for the bathroom. They are not likely to rust, and they are easy to clean and maintain.  
Shutters for an Elegant Aesthetic
The use of shutters in any room of the house adds an air of elegance. Clean and durable
thermalite shutters
, manufactured in the plantation shutter style, are perfect for your bathroom. They work in a similar way to Venetian blinds, in that they are made up of moveable and easily adjustable louvres. Except with shutters, these slats are generally a bit larger, which means they allow for more air flow and sunlight. A bathroom window that allows for ventilation while maintaining privacy is definitely important.  
Timber Blinds for Simplicity
Timber blinds
are great for bathrooms because they match with many different styles of décor and they are rather easy to clean. PVC blinds, or artificial timber blinds, are great in this respect as well. PVC blinds are probably more durable and slightly cheaper than real timber. Both let in the light while obscuring you and your private activities from view.  
Vertical Blinds for the Curtain Effect
Vertical blinds
are also a good idea for a bathroom. Their use of fabric makes them appear similar to curtains, so you can have that classic, soft effect of curtains with the functionality of blinds. The vertical hanging blind material turns 180 degrees, so you can expect greater control over direct sunlight while still getting diffused light and view. Vertical blinds are also good because the choice of colour of fabric means you can easily match any décor.
---
Speak with one of our design consultants at Total Look Blinds in Auckland today to discuss your bathroom window covering options. Call us today for a free quote and measure.