Child Safe Blinds for Your Home
For most young families who have blinds installed in their home, child safety with blinds is always a key consideration. Most new blinds these days are created following strict safety guidelines to minimise the risk of injury. However, each type of window furnishing comes with potential risks for child injuries, some of which can be mitigated.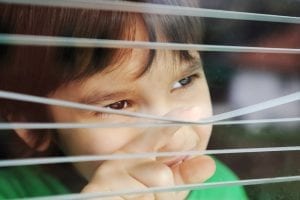 Potential Issues with Blinds
Depending on the material and style, vertical and Venetian blinds can pose some safety risks. Young children can catch their fingers in individual slats. On aluminium or older plastic slats, there are sharp edges that children can cut their fingers on. Roller blinds are widely popular but can feature a cord or chain that children can pull on or become tangled in.
Safety Solutions for Blind Cords
Blind cords have been a particularly big concern. There are solutions to keeping cords out of harm's way, so your child can be safe, and you don't have to limit your choice when selecting blinds. This can be as simple as tying the cords up so they are out of reach of children. Safety clips can also be mounted on the wall to keep cords and chains at a particular height.
Child Proof Blind Options
Some families prefer to use window furnishings that don't have cords and chains. This includes spring loaded roller blinds and motorised roller blinds. Both eliminate the need for cords or chains that children can grab onto. However, there is no need to completely redo the window furnishings in your house to keep your kids safe.
Child Proofing Existing Blinds
If you find that your existing blinds are not child friendly, there are a number of ways you can improve their safety. This includes switching an operating cord for a wand, which is twisted to lift or lower the blind. Other solutions include a chain breaker connector which prevent tugging as well as tension pulleys, blind cord stoppers, rear breakaway cord connectors and cleats.
Quality Shutters and Blinds in Auckland
Are you after quality blind installations? Auckland homes and businesses have counted on Total Look Blinds to provide blinds and shutters that offer practicality and timeless style. From custom timber blinds for family homes to major commercial blind installations, Auckland's best is ready to help!
Find out more about choosing the right blinds or request a free quote today. If you have any other enquiries, call us on 0800 449 966 or contact us online.