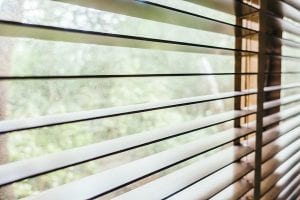 When it comes to window coverings, wooden blinds are often considered the warmest, most genuine addition you can make to your home.
However, there are other budget-friendly ways of achieving the wooden look. Just make sure you assess your options and talk to a blinds specialist.
In this article, we'll be looking at PVC blinds and what you need to consider when exploring this great alternative to timber.
 Stylish Designs with PVC Blinds
If you want the warm, beautiful look of wood without taking a chunk out of your savings, consider installing Artwood PVC blinds.
Artwood blinds are artificial, timber-look blinds that are manufactured out of PVC – they are painted to look like timber but are only a fraction of the cost.
They give you incredible control over how much light is allowed to enter the room and, when open, barely obstruct the views through the window.
Unlike timber blinds, PVC blinds are resistant to bowing and twisting while offering the same gorgeous timber look and feel.
Another huge benefit of these blinds is their low-maintenance cleaning requirements. They do not need to be washed and can simply be wiped over with a cloth occasionally.
 Environmental Sustainability and PVC Safety
PVC products produce very few carbon emissions as they are manufactured sustainably and can be recycled. The materials involved are 57% chlorine so their impact on the environment is slim.
Additionally, the insulation properties of PVC are high, helping you save on energy prices in your home.
Having high chlorine content means PVC blinds boast excellent fire-retardant properties, removing one more worry when it comes to the protection of your family and your home.
Other Advantages and Considerations
PVC blinds offer a range of other advantages, ticking all the boxes for window coverings in your home. Choose PVC for:
Great privacy options
No twisted or warped panels
Excellent solar reflection
Easy cleaning
Safety for young children
Keep in mind that PVC can be damaged by overexposure to UV rays or air pollution. If you wish to install PVC, assess the area and make sure the window you choose is not exposed to extended periods of direct sunlight.
You can also consider adding a sunscreen blind closest to the window side to lessen UV exposure and protect the quality and appearance of your blinds.
Are PVC Blinds the Right Choice for You?
There is no right answer when it comes to personal taste in window coverings. We believe that PVC blinds have very few downsides, especially when you are working on a budget and want a high-quality, long lasting product.
Weighing up your options to decide between PVC blinds or a mesh roller blind is simple when you reach out to an expert.
Speak to our friendly team at Total Look Blinds Auckland for a free quote today. Have a look at our gallery and contact us online. Alternatively, you can always call us on 0800 449 966.