Fitting Out a Commercial Space – What You Should Know
Choosing your blinds for a commercial space is very different from choosing blinds for your home. What you need to factor in is different, and you'll likely be catering to the needs of the function of the space, your employees, and the aesthetic more than anything else.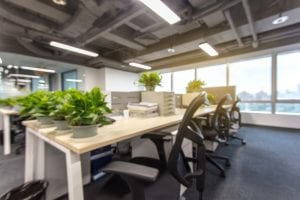 When it comes to fitting out a commercial space with window furnishings, you want to make sure you get it right the first time – as constantly replacing window furnishings is a costly experience. Invest in high quality from the get-go and you will be sure to reap the benefits.
So where do you start when it comes to fitting out a commercial space? Here's our top questions to consider:

What is the Main Function of the Space?

Blinds will suit according to the main function of the space. For example, If the main function of your space is retail, then you might like to ensure that there is plenty of natural light, but also be able to secure your space with blockout blinds when the shop is closed. If your commercial space involves manufacturing or high amounts of condensation, then you won't want fabric blinds that could become difficult to clean. Consider what the main function of the space is and find blinds that will be appropriate.

What Look are You Trying to Create?
Do you want your blinds to be a feature or blend in with the existing design of the space? Perhaps you're trying to create a style that's homely and comfortable, or maybe you want them to reflect your brand – sleek, modern and professional. Carefully chosen blinds will help you in creating the perfect look for your space.

What's Your Budget?
Fitting out a commercial building with window furnishings is a long-term investment, so consider your budget carefully. Cheap blinds will always look cheap and may even bring down the entire professionalism of your space. While it's important to stick to your budget, shop around and find the highest quality blinds and fitters for a decent price.

What Should You Look for in a Professional?
Fitting out a commercial building with blinds is no small feat. Using a professional will allow you to receive the best advice and have your blinds installed correctly. Look for a blind company that will consult with you, measure and custom build your blinds, and install them in your space. Some commercial buildings need blinds in high places, and you will certainly need a team of professionals to measure and fit roller or Venetian blinds in these spaces.
We offer a complete fit out solution for all commercial buildings. For your custom-built blinds or shutters in Auckland you can't go past Total Look Blinds. We have the most professional team to make your experience in adding beautiful blinds to your commercial space satisfying. Contact us for your no obligation, free quote today. Give us a call 0800449966.