Getting an Office Makeover – Don't Forget the Windows
Renovating your office can not only be a great way to freshen up the look of your space for your clients, but also give yourself a new bout of motivation. When it comes to giving your office a makeover, it's important to factor in updating the windows! New office blinds can play a pivotal role in turning a makeover from just okay, to absolutely amazing.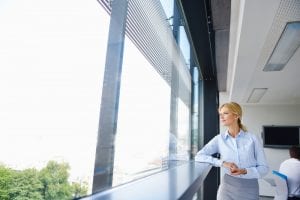 Whether your office space is a single room in your home or in a high-rise building, there's plenty of things to consider when including blinds in an office renovation.
Glorious Sun When You Want It
Sunlight in an office gives workers a dose of Vitamin D, puts a smile on their faces, and boosts their productivity. Blinds that easily and effectively let in the sun are fantastic for any office space. However, with sun also comes glare. With many offices utilising more than one screen, glare can be a seriously frustrating problem to many. When you're installing blinds for your office, you'll want to consider light filtering, translucent blinds which will still reduce glare and let in sun. Blackout blinds will also come in handy for presentations or video conferencing is being projected on a large screen or wall.
From Drab to Fab
While many offices stick to more neutral colours for their window makeovers, you can still have your new blinds transforming the look of a space. Some things to consider as well as colour are:
Style: Each style of blind provides a different type of impact. Roller blinds, roman blinds, and more can all boost the look in different ways.
Fabrics: Each type of fabric will create a specific look for your office space. Plain, patterned and textured fabrics can all make a difference to the aesthetics.
Personalisation: Custom built blinds can be made to fit any size of window. They can also have various ways of opening up which can make them look wonderfully modern.
Keep it Green

Keeping it green doesn't mean the colour of your blinds, but your energy efficiency. Renovations that include upgrading your blinds means added energy efficiency as you install blinds that are able to keep your office space cooler in summer and warmer in winter. You and your employees won't be reaching for the split system air conditioner remote as much, and you'll save on rising energy costs!

Call us for Your Makeover
Let us help you with your next office renovation. For your custom-built blinds or shutters for your office in Auckland you can't go past Total Look Blinds. We have the most professional team to make your experience in adding beautiful blinds to your home satisfying. Contact us for your no obligation, free quote today. Give us a call 0800449966.