The future of modern living is here with the Automate Pulse 2, a high-tech automated solution designed in California for your blinds. It is cutting edge, sleek, comfort and convenience all in one. Read our guide below to find out more.
What is the Automate Pulse 2?
The Automate Pulse 2 features the latest in smart home technologies and is perfect for modern living. It offers you greater automation than motorised blinds with integrations of: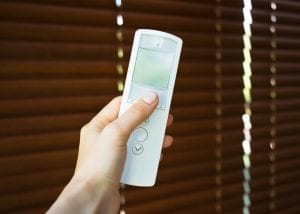 How
D
oes Automate Pulse 2 Work?
Automate Pulse 2 works through connecting to your home's network to provide you with hi-tech automated solutions. You can control shades, lighting, entertainment, security, climate and other connected devices within one convenient control system. Automate is compatible with a range of premium home automation systems, all at the touch of a screen. You have the option of a built-in Wi-Fi or a LAN connection. Automation has never been easier.
Host of Benefits
Automate Pulse 2 comes with a host of benefits through its vast product range that you will quickly want to make use of.
Automate App
The Automate Pulse 2 App enables you to achieve sophisticated shade control straight from any iOS or Android smart phone or tablet. You can group shades by room or scene, establish custom schedules and more.
Control the Elements
With the Automate Pulse 2, you get to control the elements with the solar-powered ARC Wind, Sun & Rain sensor. It naturally reacts to the elements, automatically open or closing an awning.
Voice Control
Utilising voice commands, to operate your automated controlled shades is now more convenient than ever. The "native" control responds to your naturally spoken language for shade operation. This does not require any additional set-up.
Stylish and Highly Functional
The Automate Pulse 2 is highly stylish with its contemporary designed range of remotes and wall switches. A perfect fit for any modern home.
Automate Solar Panel
If you care about energy efficiency, than the Automate Solar Panel is an absolute must for you. Featuring a smaller design and improved performance in low light, it gives you an energy efficient upgrade for your entire Automate Wire-Free Li-ion range of motors.
Automate Curtain Motor
The Automate C motor for window coverings comes with stand-out 'soft touch' technology. A gentle pull is needed on the fabric to automatically open or close your curtains. It's designed with quiet acoustic technology so there is zero noise.
Experience the Difference
Different to other automated blind solutions, the Automate Pulse 2, takes automation to a whole new level. It gives you so many more options and benefits as shown.
Get ready to experience unbelievable comfort, class and convenience with the Automate Pulse 2. Speak to the automation experts at Total Look Blinds today to find out more. Contact us now for information.