The Difference between Roller Blockout and Roller Sunscreen Blinds
Roller blinds are one of the most popular blind varieties in Auckland. They are extremely versatile and their motorisation potential is widely recognised as a great thing. If you are thinking about roller blinds for your windows, it is important to know what kind you want as they are not all the same! In this article, we will explain the difference between blockout and sunscreen blinds.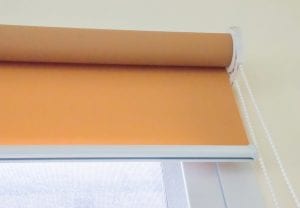 Roller Sunscreen Blinds
Roller Sunscreen Blinds are the most versatile roller blinds on the market. They provide privacy while also providing a view of the outside world because they only partially block the light. They do a good job of stopping the heat from outdoors entering the building, which is perfect for living spaces and kitchens.
The Blockout Advantage
Roller Blockout Blinds are a brilliant solution for keeping the sun out of your rooms. Correctly measured and professionally installed, they can totally black out a room. They are therefore perfect for shift and late night workers who need to sleep during the day. Additionally, they are also perfect for those offices and rooms where heat and glare from the summer sun would otherwise make working or relaxing unattainable. Some office managers have found blockout blinds work better than sunscreen blinds because workers can't see what they're missing out on and therefore aren't distracted from work. Some workers have described such conditions as functional but depressing and detrimental to their satisfaction. To split the difference, it's important to know that you can install a double blind option, so that both sunscreen and blockout blinds are available for the same window.
Motorisation
Motorisation is the best part of roller blinds. It can be applied to both sunscreen and blockout blinds. If you have lots of windows and blinds, you can add motors and control them from a single remote control. The windows can each have their own channel, so you can control them one by one, and simultaneously-set group controls so that you can control them all at once. Thanks to persistent innovation, these controls can even be accessed from smartphones if you have the right smart home setup.
Additionally, motorised window fittings can be coupled to environmental sensors and timers, so they can deploy at a particular time of day or if the sun intensity is high enough.
Quality Shutters and Blinds in Auckland
Are you after quality blind installations? Auckland homes and businesses have counted on Total Look Blinds to provide blinds and shutters that offer practicality and timeless style. From custom timber blinds for family homes to major commercial blind installations, Auckland's best is ready to help!
Find out more about choosing the right blinds or request a free quote today. If you have any other enquiries, call us on 0800 449 966 or contact us online.