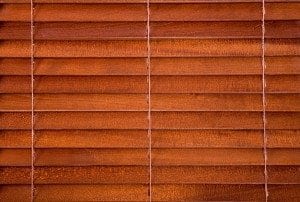 If you're deciding on blinds for your home, you'll be weighing up and discussing materials that perhaps you had never given a second thought to. Timber and PVC are two materials that are often discussed in tandem as rivals for the spot of your window coverings.
At Total Look Blinds, we manufacture a range of blinds right here in Auckland. Two of our most popular and most debated are certainly timber and PVC. So which will you choose? Let's go over the pros and cons of each.
Pros of Timber Blinds
The biggest advantage of choosing timber blinds is their aesthetic appeal. Timber furnishings and furniture in general, have charm due to their warm and natural look full of interesting grain patterns. Timber blinds will suit any decor, from contemporary to traditional, and no material can beat their visual effect. They tend to look as though they are built into the home and architecture rather than standing out.
Timber blinds are also great because they offer variety in style, shape, size and colour, they are also very light, this results in minimal ladders being used throughout the blind, which results in a cleaner look. Timber, as a material, is ecologically sustainable, in that timber is a renewable resource that is readily available.
Cons of Wooden Blinds
On the downside, as a natural material, wood can expand and contract with changes in moisture. This can lead to twisting and warping in the vanes, especially if the timber blinds you use are lower in quality. Timber is also more prone to chipping, cracking and fading, especially when exposed to the sun or elements. In addition, while timber does provide some thermal insulation, it does not compare to PVC in that regard.
Benefits of PVC Blinds
As an artificial timber product, PVC blinds have the benefit of giving you a similar look and feel of wood. They are great for when you want the look of painted timber on a budget, and you can even choose between many different durable paint finishes.
As PVC is a synthetic material, it is incredibly strong and manufactured to be able to withstand everything from strong winds and rains to high levels of UV light from the sun without warping, cracking or fading. The chemical structure of these blinds is resistant to oxidisation, so you can feel free to use them in any moist environment without fear of rust.
PVC also has more insulation properties than timber, which helps you keep your home warm in the winter and cool in the summer, helping you to save on heating and cooling costs. In addition, you'll find that it uses up fewer natural resources than other synthetic materials to produce, as it is made up of 57% chlorine, which is derived from salt. This high chlorine content also serves to make PVC blinds fire retardant.
Cons of PVC Blinds
In terms of cons, there aren't too many to speak of. One con is the weight which results in more ladders being used which sometimes give a cluttered look.  Some customers may have reserves about purchasing a synthetically made product, but we feel the pros far outweigh the cons.
---
Speak with one of our experts at Total Look Blinds for more help deciding which material is right for your blinds. Call us today to schedule a free consultation, measure and quote, or get a free quote online now.