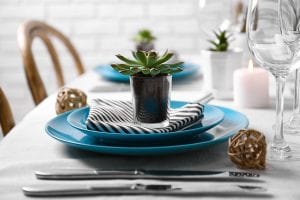 Stay ahead and impress everyone at Christmas lunch with your knowledge of what's hot in home décor for 2018.
A Blast of Colour
We're moving out with the minimalistic shades and embracing warm earthliness. Picture terracotta, strawberry red and forest greens. No matter which room you're planning on upgrading, make a conscious choice to include some splashes of these colours in it.
New-Wave Metallic Designs
The return of metallic is here! Interior designers recommend having some metallic in the bedrooms, living rooms or kitchens, simply to brighten them up. Metallic colours are a beautiful way of adding a bit of light and shimmer to a room that may otherwise appear dull. Not only that, they also show modern glamour.
Choosing where to add metallic colour may be a difficult task but when doing so, consider the other factors of the room. Metallic furniture may appear overwhelming, so it is smart to pair simple yet sophisticated wooden furniture with metallic wallpaper or blinds.
Metallic blinds are an especially appealing way to add that extra shimmer without making the whole room look like a 90s disco.
Bring the Outdoors Indoors
The idea of bringing the outdoors indoors is here to stay, and it is another lovely way to incorporate a gentle metallic touch to your room. When choosing plants to place inside, ensure that they are specifically suited indoor plants, so that they may thrive and accentuate the earthliness of your home.
Metallic often looks stunning when paired with the emerald green of plants, so choose pots with a metallic finish.
Timeless Earthen Tones
Comfort is big this season, so it is no surprise that, once again, we return to the idea of earthen tones. For many, the rich woods and browns of the earth appear inviting and comforting, which is why they are making their ways into our homes. Earthen tones may be represented in a variety of ways, from indoor plants to wooden furniture; however, it is also important to think outside of the box.
The earthen style is also present in furniture that is not made of wood, such as couches. Rich-coloured couches, such as deep plums, are on the to-watch list for home décor in 2018, and experts say that the rounder and plumper styles will definitely be rising in popularity. After all, when you come home, being surrounded by comfortable and relaxing furniture is truly the ideal scenario.
What to Watch Out For
When new styles come in, old styles move out. In 2018, the styles that will no longer be seen as the top of home décor include very bright and pure rooms, floral, fluorescent colours and, perhaps soon, pale pinks will be joining this list.
---
Contact Us for More Information
If you have any questions about this article or wish to see our complete range of blinds, contact Total Look Blinds online or call 0800 449 966. Our professional team will help you make your home a dreamscape!