Fives Ways to Keep Your Home Cool without Air Con
Air conditioning is a brilliant invention, but our ancestors survived years without electricity. There are several ways to keep you and your house cool on hot days without turning to modern appliances. Even if you have an air conditioner, knowing these tips can help to take the edge and save you considerable amounts of money in the long run.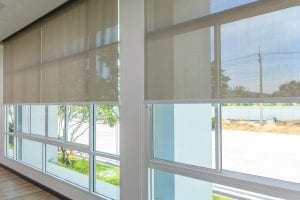 Open Your Windows at Night
Even during the hottest summer months, the temperature will usually drop at least a few degrees overnight. If it's cooler outside than in, open the windows. If you are worried about insects, only open the doors and windows with fly screens, but take advantage of the natural cooling when it is there. The only thing to remember is to close the windows in the morning, before it starts warming up.
Close Your Blinds
A lot of heat enters houses and offices through the windows. Double glazing can help, but it won't stop heat entering as solar radiation. One of the best ways to stop your house from heating up is by closing your blinds. If you have motorised roller sunscreen blinds, this can be as simple as pushing a button on a remote. Closing your blinds will create an air pocket on the inside of the window that will probably heat up, and if your blinds don't completely cover your windows, this won't be well contained. If you have big northern facing windows, it may be worth investing in removable shutters.
Invest in Blockout Blinds
Roller Blockout Blinds are the best solution for keeping the sun out of your rooms. They can totally black out a room and are perfect for shift workers who need to sleep during the day. They are also perfect for those offices and lounge rooms where heat and glare from the summer sun make working and relaxing difficult. You can even invest in a double blind option, so there is a middle option between no blind and a blockout blind.
Insulation
Insulation is one of the best ways to keep your house cool in summer and warm in winter. It acts as thermal mass, and means that it takes longer for the internal temperature of your house to be affected by the external temperature giving you a more consistent feel.
Be Door Smart
If there are rooms in your house that you aren't using, keep their doors closed, particularly if those rooms are prone to heating up. This way, if you are using a fan or an air conditioner, it doesn't need to work as hard.
Quality Shutters and Blinds in Auckland
Are you after quality blind installations? Auckland homes and businesses have counted on Total Look Blinds to provide blinds and shutters that offer practicality and timeless style. From custom timber blinds for family homes to major commercial blind installations, Auckland's best is ready to help!
Find out more about choosing the right blinds or request a free quote today. If you have any other enquiries, call us on 0800 449 966 or contact us online.