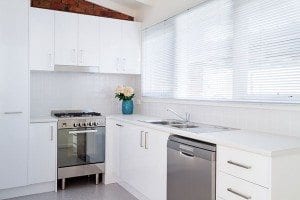 When choosing window coverings for your home, you tend to think about which materials you'll use. The materials of your blinds should not only be functional and cost-effective, they should also be environmentally responsible and stylish.
At Total Look Blinds in Auckland, we perform blind installations for locals. We have a large range of shutters and blinds to choose from. One of our favourites is PVC blinds because they offer a complete window covering package.
Let's review some of their benefits:
A Warm and Inviting Look
Our PVC blinds, or artwood blinds, look and feel like timber. You get the benefit of the great warm and inviting look that only timber can give without using up natural resources and paying the larger fee that comes with timber products. In addition, the paint finish on PVC will not chip, crack or fade as quickly as timber would, and it requires far less maintenance.
You can also choose from a range of colours when going for PVC blinds, helping you to match the blinds to any room of the house.
Protection Against the Sun
All blinds serve to help protect you from the sun's harmful rays, but PVC is specially manufactured to be able to resist UV rays. As well as protecting your comfort as you sit inside, PVC will protect your fabrics and walls inside from fading over time.
In addition, PVC blinds can help to trap solar heat, which is perfect for helping you to keep your home insulated against the cold on those frigid winter days.
Incredible Durability
PVC is a top-quality material that can stand up to more than just the sun's harsh rays. These blinds are an investment, as they are guaranteed to last for years to come. The chemical structure of PVC means that it is highly resistant to oxidative reactions, which means that your blinds won't rust over time, no matter how much they are exposed to moist environments. So go ahead" use them in the bathroom and kitchen, too!
Cost Effective
PVC is a common synthetic material. Due to its great ratio of cost to performance, PVC is a rather cheap material that is incredibly affordable without sacrificing performance and style.
Environmentally Sustainable
PVC contributes very little to carbon emissions, from manufacture to use to recycling. It uses much less natural resources to be produced, as it is 57% chlorine, which is derived from salt. In addition, the thermal insulation properties of PVC blinds help you to save energy costs on heating and cooling your home.
Fire Retardant
PVC is also great for use in Auckland homes because its chlorine content lends itself to fire retarding properties, so you can feel secure knowing that you're taking an extra step to keep your family and home safe.
---
Contact Total Look Blinds in Auckland today for more information about PVC blinds. Get a free online quote now!