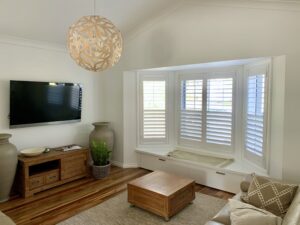 When you're looking for a solution for allowing and omitting light from your home, you have the option of roller, venetian and vertical blinds or the classic choice of shutters. The difference? They are structured differently, with blinds being flexible material and fixed to the top of the window, where as shutters are solid and fixed to the sides of your windows permanently. That means shutters have a neater finish and don't steal as much attention as blinds as they are essentially built in. In addition to light control, they offer benefits such as privacy, weather protection and the security of intruder protection.
What's different about Total Look Blinds?
Our range of Thermalite shutters have the look and feel of wood with a number of advantages. They look fantastic and will save you money now and in the future. Let's find out how.
Thermalite provides 2 to 3 times the insulation of wood and vinyl shutters, making it the only choice for keeping your home warm in winter and cooler in summer.
If it's safety you are concerned with, Thermalite is fire-retardant which is a stark contrast to wood shutters. Sleep well at night knowing you're safe and sound with our shutters.
As well as fire, our range of shutters are water resistant. No more worries about leaving a window open and ruining your shutters with rain or kids spilling drinks on them from time to time. Over time, condensation can find its way into shutters and slowly rot away at the wood but not with Thermalite.
A solid and non-toxic synthetic material that can be cut, drilled and painted just like wood. They have the same great finish but with all the added benefits
Being made from renewable materials means they are environmentally friendly due to the fact no natural resources are used in the manufacturing process.
These low maintenance systems never require tightening or adjusting and have the longest and most comprehensive warranty of all window coverings.
An excellent paint finish ensures their longevity and they refuse to yellow over time like ordinary shutters.
In or out? Finally, due to all the benefits listed, it means they can be used inside your windows or outside your windows, depending on your personal preference.
Call Total Look Blinds today to learn more about installing the best shutters in your home today. Our expert team can advise.