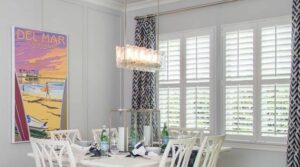 When it comes to fitting out rental properties you want quality for a good price. You need products that are durable and will last beyond the current tenant. In addition to this, aesthetic is an important element of any decor in any home. Lighter colours as shades, such as white, can make smaller spaces seem bigger which is ideal for smaller rental properties and flats. Privacy is another important factor for units and flats. One part of your rental property we can help with is your blinds. So we've gone to the trouble of choosing the best blinds for your property.
Venetian Blinds
These are one of the most popular blind choices throughout the years with the versatility and style they add to any home. They suit all styles of decor, from older or traditional looking rooms to ultra-modern spaces in new builds. The venetian blind is an all-rounder that can fit into any area of a home offering good light control to keep out hot rays of sun or help to insulate your home in the cold months. Made from thick aluminium slats mean they are strong and durable for years of use with minimal fuss. Covering the length of any window allows privacy from nosy neighbours and passersby, even in city centres.
Sunscreen Blinds
The best option for daylight control comes from our sunscreen blinds. They enable you to omit sunlight from your home whilst not limiting your view. You'll keep the benefits of window blinds without sacrificing being able to peer out of your window during the day. These are great for offering privacy if your window looks right out onto a busy street or into another property. Upgrade these by pairing them with a day/night bracket for extra darkness at night.
Blockout Blinds
If you require total light control, blockout blinds are the way to go. These are most commonly used for bedrooms to keep out nasty streetlights and reduce noise pollution from outside. They make great additions to living rooms or home offices to keep bright lights away. Making a comeback in recent years, they offer a practical and timeless design for homes.
Still unsure of which are blinds to choose for your rental property? Why not get in touch with us today to talk through your needs and allow us to advise. We also offer a free measure and quote on our blinds and shutters in Auckland.