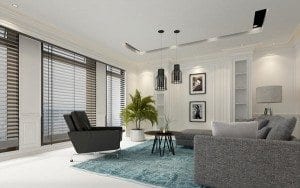 Making a decision on what window furnishings will suit your home, tastes and budget can be tricky! What you decide can completely change the look and comfort of your home so it is not a choice you should make lightly.
Knowing the difference between the types of blinds are available can help inform your decision
. You also want to make sure your indoor furnishings are on trend and match the style of the rest of your home.
Here's where you should start when it comes to deciding between blinds and shutters in 2017
Deciding on Your Blinds
When deciding on the type of blinds you would like to install in your home, you need to consider which type will suit both your aesthetics and your needs. Some blinds filter light more than others, some are made of wood and others are fabric. It really depends on what will suit you and your home. Here are the most popular blinds on the New Zealand Market in 2017.
Venetian blinds have been a popular trend in blinds for many years. Their versatility means they suit a variety of homes and offices. They also offer great control in light filtering and privacy. Total Look Blinds offers Venetian blinds that have a Uniline patented Privasee crimp. This gives your Venetian blinds full closure when required, offering complete privacy and security. Venetian blinds also come in a range of colours. This gives you greater flexibility in matching your window furnishings to your home's decor.
Roller Blinds
Roller Blinds are making a comeback as new fabrics in 2017 as the minimalist look becomes appealing to many. Roller blinds can be combined on the same bracket so you can have your day and night requirements fulfilled.
Roller Blockout blinds
can be put down at night, while
sunscreen roller blinds
or translucent blinds can be used during the day. You can also motorise your roller blinds easily, giving you full comfort and automation in your home.
The beauty of shutters is that good quality ones can be used in any room of the house. They are water and fire resistant, making them suitable for bedrooms and bathrooms alike. This means you can get a consistent look across your entire home when it comes to your window furnishings. Total Look Blinds offers Thermalite Shutters - a superior shutter which has the look and feel of wood with all the advantages of traditional shutters. Thermalite is made from dense polyester foam and has the longest and most comprehensive warranty in the industry. For your custom-built blinds or shutters in Auckland, you cannot go past Total Look Blinds. Talk to our dedicated team about installing blinds or shutters and we will ensure that your experience is a pleasurable one. We will be with you every step of the way, ensuring that you get the best window covering for your home for 2017 and beyond.
---
Contact us for your no obligation, or fill in the form for free quote and measure.