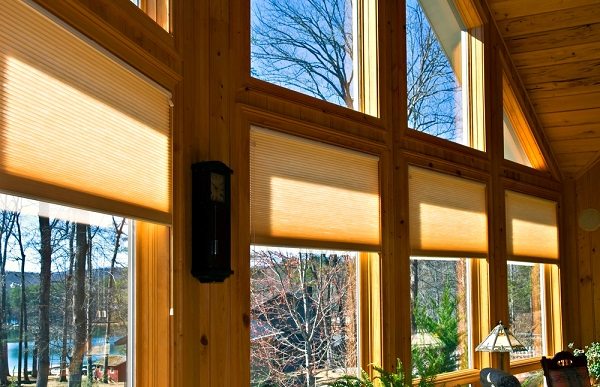 A closed off room can create a claustrophobic feeling in your home and add a negative space to the house you've worked so tirelessly to design. Our team of experts has analysed cost-effective and attractive options for placing blinds on small windows and achieving brilliant, welcoming designs.
Choose Light Colours for Small Window Blinds
When tackling the design of a confined space, stick with lighter colours and neutral patterns to ensure the room feels as spacious as possible.
By choosing a white or cream blind you will remove any dark or dull feelings, even when the blind is fully closed.
Opting for a sheer fabric or a translucent roller blind will allow more light to penetrate the room while achieving insulation in both cold and warm months. Matching the blind to your wall colour will elongate the wall and create the illusion of spaciousness.
Create the Illusion of Space with Horizontal Shutters
Make use of designs and patterns that maximise the feeling of space in a room. A lateral shutter will give the illusion that the room is wider than it is, creating the perfect effect for a narrow hallway or small office/study.
Thermalite shutters are made from solid, non-toxic materials and are cost-effective.
They are water resistant and fire retardant while providing top of the range insulation – this makes them the ideal option for window coverings for bathrooms or any small windows around the home.
To discover if shutters or blinds are right for you, we've put together this helpful guide.
Blinds for Small Windows in Bedrooms and Theatre Rooms
If you're aiming for complete or almost complete darkness in certain rooms, such as bedrooms or theatre rooms, the best option is a block out roller blind.
Block out blinds can be ordered in neutral colours to maintain that feeling of open space and the illusion of a larger wall area.
If your windows are exposed to a large amount of direct sunlight, the best way to avoid blinds overheating is to install a sunscreen roller blind on the back of a block out blind.
This gives you the versatility to decide exactly how much light and heat you allow into the room.
Speak to an expert about your options for high-quality blind installation. The options for window fittings are growing all the time, so now is the perfect opportunity to achieve your dream design!
If you are looking for small window blinds or you simply want to see the full range of available options, contact Total Look Blinds online or call 0800 449 966. Our professional team will take the stress out of choosing your ideal blinds!