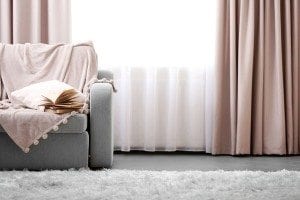 Choosing a window covering is no easy feat. There are many factors that you should take into consideration when it comes to choosing which one you'll invest in.
Think About the Style
For the most part, your blinds are more minimalist and versatile. They can fit into nearly any decor, from modern to classic and everything in between. Blinds also often come in a variety of styles, from
Venetian
to roller blinds. These are a good choice if you want to be able to match any style of living. Curtains, on the other hand, more often fall into a more classic category. They take up slightly more space and are more of an eye-catching accessory than blinds are. They can come in many different thicknesses and fabrics, so you can have a lot of range with them as well. They don't go as well in contemporary homes as roller blinds do.
Which Room Are You Considering?
Choosing between blinds and curtains also depends on the rooms windows you plan to cover. Is this for your bathroom or your bedroom, your kitchen or your living room? Curtains certainly have more of a place in the bedroom and living room. When it comes to kitchens and bathrooms, however, blinds are significantly more suitable for a number of reasons. Aesthetically, their minimalistic form that doesn't take up much space looks much better. They are also more efficient and won't likely be damaged by any moisture. That being said, blinds are perfect for bedrooms and living rooms as well. For example,
sunscreen roller blinds
are great for common spaces, as they provide a sheer fabric that gives you a view of the outside while still protecting your home from the heat of the suns harmful rays.
Blockout roller blinds
are perfect for bedrooms because they not only provide optimal security, but they also block out the early morning sunlight so you can sleep in.
How Much Control Do You Want?
When it comes to functionality, blinds usually take the cake. They have more components that allow you greater control over things like the amount of sunlight or airflow you let in. Venetians especially allow you to control the direction of the louvres and the amount of space between them, whereas curtains can only open or close.
Ease of Maintenance
Curtains are a bit more free-moving, so they are subject to more wear and tear. Daily fabric handling will certainly cause the fabric to wear down over time, and constant sunlight on the fabrics will cause your curtains to fade. In addition, they can trap dirt and dust in their lifetimes, so you'll have to clean them more often. Blinds, especially ones made with
PVC
or other innovative new materials, are much easier to maintain. They won't fade nearly as easily, if at all, and they're not likely to break unless handled very roughly. In addition, blinds are much easier to clean if dust collects on them.
---
For some of the best blinds options in Auckland get in touch with Total Look Blinds today for a free quote.