How Blockout Blinds Can Improve Sleep
Our bodies have an inbuilt alarm clock that helps us wake up with the sun and go to sleep when it gets dark. Some of us are capable of sleeping in the presence of some light, while others are much more sensitive and wake to the slightest crack of daylight.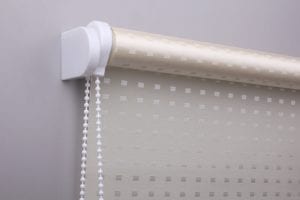 Whether you struggle to sleep in the longer daylight hours of summer or need to take naps during the day, blockout blinds can help you rest easier when you need to. By using blockout blinds, you can dramatically improve the quality of your sleep so you are more energetic and better rested for the day.
Who Can Benefit from Blockout Blinds?
Blockout blinds aren't just used by those sensitive to the light. They are an increasingly popular option all year round, used for a variety of reasons. For example:
Babies and children who rest during the day
Shift workers who work at night and sleep during the day
Migraine sufferers
Insomniacs and restless sleepers
People with windows near bright street lamps or other light pollution
Anyone who wants to drift off to sleep easier without having to use pharmaceuticals can benefit from using blockout blinds.
The Benefits of Sleeping Well
A good night's rest is about more than feeling better rested and more energetic. Sleeping well ensures you have a sharper memory, react faster and have a greater level of attention to detail. This is important for everything from schooling and working to driving and socialising.
Getting the appropriate amount of sleep also makes us more creative, more willing to learn and better at completing complex tasks. Those that get a healthy amount of sleep lead healthier lives and fall ill much less. Good sleep habits are associated with healthy blood pressure, weight and reduced stress.
Why Blockout Blinds Work
Blockout blinds create a completely dark environment to sleep in, eliminating the possibility of any light stimulating you or causing a distraction that prevents you from getting to sleep. Blockout curtains look great and also come with a variety of other added benefits.
Blockout blinds are more insulating, meaning you can enjoy a cooler room to sleep in during summer and a warmer room during winter. Blockout blinds also help to reduce sound, further helping to create an ideal sleeping environment so you can be energised.
Roller Blockout Blinds in Auckland
Are you looking for attractive and functional roller blinds? Auckland homes and businesses have counted on Total Look Blinds to provide blinds and shutters that offer practicality and timeless style. From custom timber blinds for family homes to major commercial blind installations, Auckland's best is ready to help!
Find out more about choosing the right blinds or request a free quote today. If you have any other enquiries, call us on 0800 449 966 or contact us online.