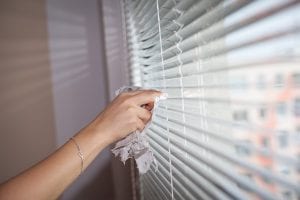 Like everything in life, a little bit of maintenance goes a long way in keeping your purchases looking and functioning at their best.
You wouldn't skip services on your car simply because it is new, and you should apply the same principles to the upkeep of your blinds.
Creating a manageable maintenance plan is the easiest way to ensure a good upkeep with as little effort as possible.
 Weekly Dusting
While you're doing your other chores at home, such as the vacuuming and mopping, remember to give your blinds a once over, too.
Using a microfiber cloth or duster, gently wipe over your blinds. For vertical blinds, venetian blinds or timber blinds, be sure to wipe over each slat or piece of fabric to make sure it all gets a good clean.
For vertical blinds, only wipe downward, as this helps to stop the blinds from unhinging and tangling. For venetian blinds, wipe across the slats, not up and down.
Regular Vacuuming
Regularly vacuuming your blinds can help to remove any ingrained dirt and dust.
Be cautious when vacuuming; use a small brush attachment that can gather the dust and fit in between slats and fabric.
Apply the same principles as when dusting; do not move up and down on Venetian blinds and only run the vacuum head downward for vertical blinds. This helps to prevent any damage and remove the risk of your vacuum getting hooked in the slats.
 Talk to Greg, Carolyn and David for top advice on blinds 
The best approach for removing stains or deeply ingrained dirt and grime is going to be different depending on which blinds you have in your home. To ensure you take the right steps in rectifying any damage, refer to your "Care, Maintenance and Guarantee" pamphlet.
This pamphlet outlines the best way to care for your individual blinds, including the correct cleaning procedures, and we include one with every purchase from Total Look Blinds.
If you soil your blinds and are unsure how to give them a thorough clean, this pamphlet is a great place to start!
Do you need more advice about cleaning your new blinds? Maybe you're in the market for new roller blinds, PVC blinds or Thermalite
shutters
. Whatever your needs, the team at Total Look Blinds in Auckland can help. Our 20+ years of experience has made us experts in all things blinds. Talk to Carolyn, Greg, David and the team about the best design, style, colour, or cleaning practice for your beautiful blinds. Our team would be happy to arrange a personal or commercial blind consultation and installation in Auckland. For more information on our range of products & 
services
 or to arrange a free consultation, please contact us on 0800 449 966, 
submit an enquiry
 on our website or check out our 
blog
 for more information!