Common Window Measuring Mistakes
To the ordinary home owner, it might seem like a great idea to measure your own windows and order blinds online to fit them yourself and save a few bucks. However, there are many mistakes that such 'savvy' homeowners make regularly. If you're ever in doubt, it is worth noting that good blind companies will usually come out and measure your windows for free to make sure they don't need to cut them twice!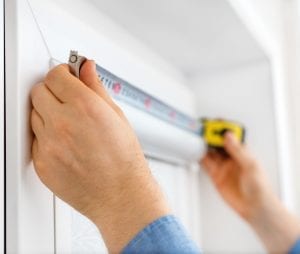 Not Measuring the Windows
When you are measuring windows, measure the actual window frame with a tape. Don't measure the size of the blinds that you think will fit in those windows. Measure the actual windows, because every different window furnishing will have its own unique spacing and fitting requirements that the blind designers and installers will account for, based upon the actual dimensions of the windows. Even blockout roller blinds have small openings to allow them to move freely.
This happens all too easily when someone orders new blinds to replace old blinds, and they submit the measurements of the old blinds.
Assuming that Similar Windows are the Same Size
Sometimes you will have two or more windows that can quite easily appear to be of same size. When you're measuring your windows, don't make this assumption. Measure every single window. There are often variations that will mean one or more blinds needs to be recut.
The second part of this mistake is assuming that all windows are rectangular, when they actually may be slightly skewed to one side or another. Measure each dimension in three places to avoid this mistake.
Forgetting to Measure Depth
This is a mistake that even the most skilled hardware enthusiast can make when ordering window fittings online. The depth of your windowsills is an important measurement to consider when measuring blinds to avoid embarrassing mistakes.
Using an Inadequate Tape Measure
The best thing to measure windows with is a steel tape measure. Those soft curly sewing measures are not designed for measuring straight lines accurately and are prone to error. Use a good quality tape measure, and do not bend it to find the exact length. Instead, let the tape measure sit flat and add the measurement of the tape measure housing, which is usually written on the side of the tape measure to the number on the tape.
Quality Shutters and Blinds in Auckland
Are you after quality blind installations? Auckland homes and businesses have counted on Total Look Blinds to provide blinds and shutters that offer practicality and timeless style. From custom timber blinds for family homes to major commercial blind installations, Auckland's best is ready to help!
Find out more about choosing the right blinds or request a free quote today. If you have any other enquiries, call us on 0800 449 966 or contact us online.