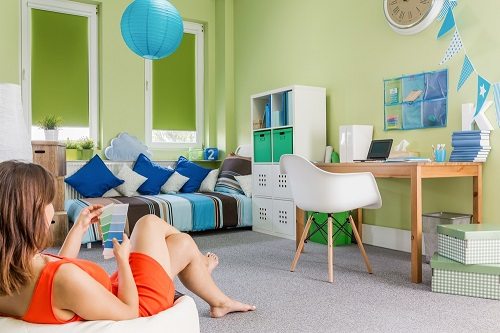 If you need to know about roller blinds, consider these frequently asked questions. For more information, contact us, your New Zealand blind specialists at Total Look Blinds.
I have no idea which roller blinds to choose. Can you help me?
At Total Look Blinds, we do more than a quick obligation free quote; we will also support you in choosing the perfect roller blinds for your needs. We will consider your surrounding neighbours and your family's needs, such as having a newborn baby who needs total darkness when sleeping.
Is it really important to get my roller blinds custom built?
Yes. Ready-made blinds may be cheaper in the beginning but they can cost you more in the long run as they are often poorly made and difficult to operate due to being made with the controls split at either end. Custom roller blinds mean you'll get a perfect fit and a guarantee that they will last.
Should I get my roller blinds motorised?
Getting your roller blinds motorised is a great and convenient option. It also means you can install a home automation system so that your blinds automatically open and close when you arrive home. This is great for both privacy and security. 
What's the difference between sunscreen and translucent roller blinds?
Sunscreen blinds are made from a specialty PVC fabric that protects your home from getting too hot in summer but still gives you a view of the outdoors.
Translucent blinds do the same; however, they do soften the sunlight and can be used on their own. Sunscreen blinds are generally used in conjunction with blackout blinds for night time privacy and security.
Does my colour choice make a difference on how much light gets filtered through?
Your colour choice can have a small effect on the amount of light filtering through the blinds. Most translucent and sunscreen blinds range between 2-10% of light filtering.
What is the warranty on roller blinds?
It will vary but ensure you have a 2 to 3-year warranty on the fabric and the components of the blinds.
Can I install a light filtering blind and a blockout blind together?
Yes. Its recommended to install a light filtering blind and a blockout blind together as this gives you the option to have both privacy and a view during the day as well as complete comfort, privacy and security at night.
What's the best way to clean and maintain roller blinds?
Roller blinds should be cleaned using a soft brush or white cloth to wipe away dirt or dust. If needed, roller blinds can be cleaned with a damp, soapy cloth
What's best to reduce outside noise coming into my home?
Good quality blockout blinds are perfect insulators and will significantly reduce traffic noise and dogs barking during the night.
How durable are roller blinds?
Roller blinds are extremely durable. They have been treated to resist UV rays so they are less likely to fade over time. Strong steel tubes and fabrics that are high quality mean you can enjoy your roller blinds for years to come.