If you are thinking of getting motorised blinds installed at your place, you have several options to choose from. Learn all about them and more in our handy little guide put together just for you below.
What are Motorised Blinds?
Unlike the traditional manual operated blinds, motorised blinds are automated and can be controlled by a remote control or switch. They are part of 'smart home technologies' and offer you greater functionality, comfort and aesthetics. They are increasingly the popular window covering for modern homeowners across the globe.
Types of Motorised Blinds
Let's take a look at the different types of motorised blinds available for your home, each offering a touch of class and privacy.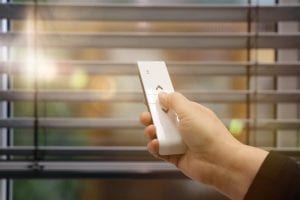 Li-lon Motors
The Li-Ion blinds which feature state of the art technology and come with the following benefits:
Ultra-quiet operation (say goodbye to the noise of the manual blinds)
Strong brackets for secure hold
Battery level check on the remote
Micro USB charging for the motor
Complete wire-free design
Simple design for easy fitting
Automate E & M Motors
These are wired in motors that offer you several benefits over wire free motors, such as eliminating the need to recharge them and installing motorised blinds more seamlessly in your home. They come in two models.
Automate E Series
This motor gives you the higher lifting capacity of an AC motor for larger blinds with A.R.T (Automate Reactive Technology) integration. You get precise positioning of individual or multiple blinds, ensuring perfect alignment every time. You also get bi-directional communication enabling you to keep track of what position your blinds are in when integrated into smart home applications.
Automate M Series
This is a high performing mechanical limit motor compatible with building automation systems. The M Series motors feature slim white head-units for minimal light gaps and a clean, unobtrusive appearance.
Installation 101
The Automate E & M motors require you to get an electrician to wire them in, so they are more commonly used in new building constructions. Make sure that your blind provider offers you a full installation service that includes custom design and manufacturing of your blinds to suit your specific needs.
Easy and Safe to Operate
Motorised blinds offer you both ease and safety of operation featuring benefits:
Battery powered hand held remote
Wireless wall mounted switch
Home automation (integrated with your smartphone or tablet)
Quiet and discreet (no noise like the old manual blinds)
Energy efficiency
No tripping hazards — wires and cords sticking out
As you can see, motorised blinds are an excellent way to enhance your lifestyle, comfort and privacy, giving you total control of your home or office at the touch of a button. To find out more just contact Total Look Blinds today.