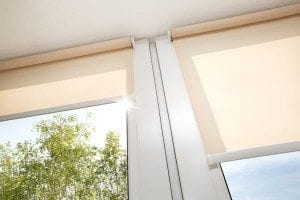 If you are indoors on a warm summer's day, it can feel a little gloomy to have all your curtains or blinds pulled shut.
With such a glorious day outside, you don't want to block out your view. However, that is what many people in Auckland do in order to keep the cool in and the heat out.
Fortunately, there is another way to let natural light into your home while keeping cool. Sunscreen roller blinds are extremely practical; especially when it comes to letting you enjoy the view without compromising the temperature of your home. Here's what you need to know about sunscreen blinds:
What Are Sunscreen Blinds?
Sunscreen roller blinds are made from a high-quality PVC fabric. This fabric is light enough to allow you to enjoy your view during the daytime but also reduce heat and UV rays.
How Do Sunscreen Blinds Increase Natural Light?
Sunscreen roller blinds increase natural light because they create a barrier that the sun cannot fully get through.
However, you can still have some of the light coming through while enjoying your view as well.
What Are the Other Advantages of Sunscreen Roller Blinds?
Other advantages of sunscreen roller blinds include.
Keeping the Heat and UV Rays out
Enjoy a light-filled house without worrying about indoor sunburn. Sunscreen roller blinds keep out the heat and UV rays. This also decreases the need for air conditioning and because you are still letting the light in a you could save some power on artificial lighting too.
Say Goodbye to Glare
Want a compromise between fighting with glare and straining your eyes in a darkened room? Sunscreen roller blinds can cut down the glare of TVs, computers and other screens without having to sit in complete darkness.
Invest in Automation
Your sunscreen roller blinds can also be automated and motorised. Invest in blinds that suit your lifestyle and your needs and say goodbye to dangerous and unsightly cords.
Other Benefits
Sunscreen roller blinds are attractive and offer a fresh look.
Sunscreen roller blinds give you privacy without spoiling your view. They provide enough light for you to see out and less light for the outside looking in.
Sunscreen blinds come in a range of colours and fabrics.
For the best sunscreen roller blinds in Auckland, you can't go past Total Look Blinds. Our perfect professional team will make choosing the right sunscreen blinds for your home an enjoyable task. For the perfect blinds that give you sunlight and protection from the heat, contact us for your new sunscreen roller blinds today.