Join the 21st century by integrating your blinds with a home automation system. This allows you to control your blinds from your smartphone, blind monitor, and other devices.
What is Home Automation?
Home automation is part of 'smart home' technology (automation). Highly futuristic and cutting edge, home automation is in use by thousands of homeowners across the globe. It is all about making your life easier and comfortable. Automation works through integrating network systems into one unit, allowing you to control lighting and temperature all through a central system.
Motorised
Blinds
Motorised blinds are stylish and convenient for your home and can be easily automated with smart home integration. You can control temperature and light-filtering functions at the touch of a screen. Best of all, you don't even need to be at home to control these functions as they completely automated. It's all done via a smartphone or tablet and couldn't be easier.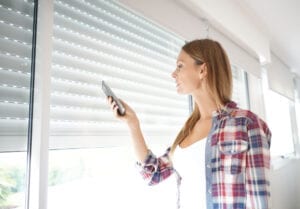 Types of
Motorised
Blinds
There are two types of motorised blinds for to choose from:
Both options offer you convenience, style and comfort for your home. All motors are complimented with stylish handheld or wall–switch controls, along with connections to your smartphone and smart home systems.
The Automate Range
Motorised blinds are part of the 'Automate Range', a highly advanced system that incorporates motors, controllers, sensors, and smart home integration to create a range of motorised shade solutions for New Zealand homes. Now your home can be part of the Automate range, as well. Speak to your professional blind installer to find out how.
Automate Pulse
Automate Pulse's highly advanced home automation system allows integration across Apple HomeKit and Siri, Google Home & Assistant, Smartphones and Amazon Alexa. It gives you full customisation of your blinds with native sunset and sunrise technology. Experiencing the sunrise and sunset has never been easier. In addition, Automate Pulse responds to your naturally spoken language for shade operation. Programmed with a wide range of languages, the Automate Pulse system is accessible to everyone.
Home automation offers incredible benefits for you and your family. Instantly transform your life by getting a modern automation system installed. Speak to our team to find out more. Contact Total Look Blinds today for advice.