Is Your Home Lacking Privacy?
It seems like every day houses are getting closer and apartment buildings are getting taller. All the while camera phones are becoming more powerful, and security cameras are being installed all over the place often without any consideration of what they might be capturing. While it might seem obvious, there are more than a few ways that window furnishings can be added to your home to increase your privacy.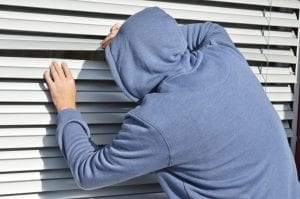 Bathroom Windows
There's nothing worse than a visible window right next to the toilet. Furthermore, bathrooms are often where people get changed when visiting homes before jumping in the pool or playing sport. These kinds of activities are also even more likely when children are introduced into the equation. It's therefore important to have blinds or shutters in every room of the house, particularly toilets and bathrooms. One of the key things to keep in mind for these fittings is that they should be easy to use and clean, as humidity is a real factor.
Second Storey Windows
It's common for every house in the street to be at least double story. There could also be an apartment building a block over. Nothing is safe from prying eyes anymore, so it's important to have quality blinds you can close when you want some privacy upstairs. Vertical blinds are particularly attractive because they can be hidden out of view when you want to take advantage of your position.
Laundry Windows
There's a lot of private laundry that may be better keeping to yourself, and if you're thinking of it already, then you know what we're talking about. Otherwise, laundry windows can be a window into the rest of your house, so dress your laundry window or close the door.
Blockout Blinds
Blockout roller blinds are awesome when you want to block out the world. If you work nights and need to sleep days, then you need blockout blinds to keep the light out when you want to sleep. Additionally, if you live near a main road, train line, or just have annoying street lights, blockout blinds can help keep your interior space yours.
Quality Shutters and Blinds in Auckland
Are you after quality blind installations? Auckland homes and businesses have counted on Total Look Blinds to provide blinds and shutters that offer practicality and timeless style. From custom timber blinds for family homes to major commercial blind installations, Auckland's best is ready to help!
Find out more about choosing the right blinds or request a free quote today. If you have any other enquiries, call us on 0800 449 966 or contact us online.