Our Blinds Are Sunscreen For The Home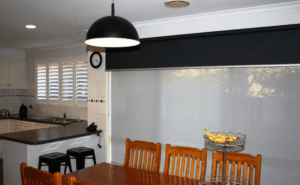 In the same way that you use sunscreen to protect your skin, you can use our blinds to protect your home from the sun's UV radiation. Advances in fabric technology mean that your home can be better sheltered than ever before. With summer on your doorstep, it's a very good time to invest in the latest in window blinds and keep out the worst of the sun's rays.
Our roller sunscreen blinds are just one example of a sun-guarding solution. The great thing about these blinds is they don't shut out light altogether and leave you in a dark room on a sunny day. The fabric we use in the manufacture of our roller sunscreen blinds is unique; it allows you to bring your blind down completely yet you can still enjoy your view. This is great for when you desire a little privacy without the total darkness offered by blockout blinds.
At the same time, these sunscreen blinds can greatly reduce sun damage to your furniture, flooring and curtains. They keep out most UV rays, and that's vitally important in protecting the things inside your home that you've paid a lot of money for, including furniture and carpet. An uncovered window will let upto 50% of UV energy pass through the glass, and this kicks off a process known as photodegradation. In basic terms, photodegradation is what happens when the sun's UV rays break down the chemicals in the coloured dyes that are typically used in furnishings and flooring. When these chemicals break down, the colour begins to fade.
Our products, like our custom made sunscreen roller blinds, are an effective barrier against excessive UV radiation. As well as this, they allow for light and privacy control as we mentioned earlier, they also regulate heat, and virtually eliminate that annoying light reflected on your TV and computer screens.
You can protect your home from UV rays and enjoy a lot of other benefits thanks to our specialised window blinds. Best of all, you don't have to block out natural light and endure a long, dark summer! You will still have a great view through your window and enjoy a cool, light-filled room. Our latest window blinds will make all of that possible, so before summer hits, contact us and find out more about our "sunscreen for the home".