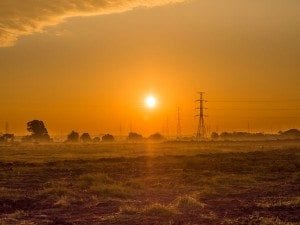 You would be forgiven for believing that your window is enough to protect you from the sun's harmful UV rays. It seems even more likely that your standard curtains are enough on a summer's day. In actual fact, neither of these methods is usually enough to protect you from the sun. Thankfully, sunscreen roller blinds can help. Want to know the importance of sun safety, here's the
article that explains what UV rays are and the benefits.
What Are Sunscreen Roller Blinds?
Sunscreen roller blinds
are made from a high-quality PVC fabric. This fabric is light enough to give you a beautiful view in the daytime but also strong enough to reduce heat and UV rays.
How Do Sunscreen Roller Blinds Prevent Indoor Sunburn?
Sunscreen roller blinds can stop you from getting burnt and prevent your furniture from becoming faded. You might not think you would get sunburnt inside, but exposure to UV rays through glass can make being protected indoors just important as being sun-smart outside. Sun damage not only causes sunburn but can also age your skin. Sunscreen roller blinds prevent you from getting indoor sunburn by:
Creating a strong blockade: This blockade prevents the sun's strong rays from fully entering the room.
Adding an extra layer of protection after glass: While some glass varieties are better at blocking UV rays than others, sunscreen blinds ensure that UV rays will be filtered out before the light gets into the room.
What Types of Sunscreen Roller Blinds Are Available?
There are a variety of sunscreen roller blinds on the market and they can vary in:
Fabrics: Sunscreen Roller Blinds are generally part PVC, part polyester and are between 2-10% openness, meaning you can filter out as much or as little light as you like.
Colours: With the popularity of Sunscreen roller blinds growing, so too does the colour options. There is a range of colours to match your blockout blinds and interior decor.
Motorisation: You can choose to motorise your sunscreen roller blinds, giving your home a seamless look without any dangling cords. It also gives you the option to automate your home and have your blinds automatically raised or lowered at the optimal times.
Guarantee: Guarantees on sunscreen roller blinds vary, so ensure you have a guarantee on the blinds you choose. At Total Look Blinds, we offer a 3-year guarantee for all fabrics and components of sunscreen roller blinds.
For the best sunscreen roller blinds in Auckland, you can't go past Total Look Blinds. Our professional team will make your experience in adding beautiful blinds to your home a pleasurable one. Do not get indoor sunburn;
contact us
for your new sunscreen roller blinds today.