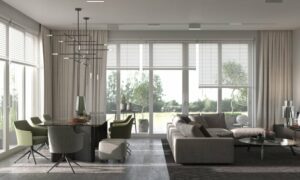 We all know about the risk New Zealand's high UV levels pose to our skin and the need of using suncream, but what about our home furnishings? Since heat and light are something we need in our home, we cannot completely avoid their harmful effects, but there is a way to protect yourself and your furniture. While we think of sun damage as something special, there are actually three main causes of damage in the light spectrum: UVA and UVB rays, thermal radiation, and visible light.
While everyone loves the Kiwi summer and the beautiful weather that comes with it, it can do some serious damage to your home if you let it. In addition to making your home feel like a sauna, it can also cause important elements of your home's decor, such as furniture, artwork, and flooring to fade. Let's look at ways to combat this so that you can enjoy the hot seasons for years to come.
Sunscreen roller blinds can prevent direct sunlight from entering your home and therefore will protect your decor. While indirect sunlight can also cause damage, the most effective way to prevent fabric fading and deterioration is to keep the sun off the fabric in the first place. This is one of the reasons why our sun shading blinds are so popular. You can place them so that the sun's rays do not penetrate directly.
It is the UV damage that you should focus on in order to put an end to it. Many homeowners believe that glass itself keeps out the harmful effects of the sun, but unfortunately, this is not the case. A clear glass window actually lets through up to 70% of the sun's UV rays, meaning your expensive furniture and precious artwork will still take the brunt. The best and most obvious solution for preserving your personal assets is to invest in sunscreen blinds..
UV protective blinds are made of fabrics that filter and diffuse harsh light, making them a specialised and stylish option for protecting furniture. However, when using shutters and blinds to reduce the amount of glare and heat entering a room, many people can feel boxed in or isolated from the outside world. With roller sunscreen blinds, you'll have all the benefits of window blinds, without the need to sacrifice your view. Perfect for protecting you from the elements whilst still allowing you the freedom of seeing outside.
To improve your home today contact us for further advice about our blinds and how they can become an important addition to your home.