There are many variables to consider when deciding between shutters and blinds for your home. Have a read of the benefits of both so that way you can make the decision for yourself.
Getting the Basics Sorted
Understand the basics sorted before deciding whether to choose shutters or blinds. Essential points to consider include, budget, the size, overall space of your home, and the amount of light you want to let in. Adding shutters and blinds to your home will transform the space as they add interesting décor and increase the value of your rooms.
Shutters
Shutters — specifically Thermalite Shutters — are the new cutting edge technology for window coverings. Shutters come with a host of benefits:
Strength and
Longevity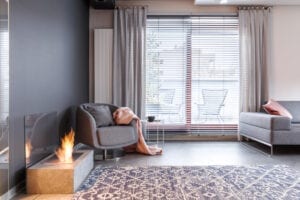 Thermalite is a solid, non-toxic, synthetic material that is water resistant and fire retardant. It won't crack, shrink, warp, peel or discolour. Thermalite shutters have the longest and most comprehensive warranty in the window covering industry. It's a transferable warranty, between homeowners.
Looks and Feels Like Wood
Thermalite is the only 100% synthetic material that looks and feels exactly like wood. So, you get the timeless and elegant look of wood without any trees being destroyed in the process, making Thermalite an environmentally friendly option.
Superior Insulation
Shutters provide superior insulation to your home, 2 — 3 times the insulation of wood and vinyl shutters. Their material is designed to trap sunlight and heat without increasing in temperature. In all, they help decrease your energy bills and help reduce your carbon footprint.
Easy Maintenance
Shutters are easy maintenance, just wash with a mild soap and water or a mild household dishwashing liquid using a soft cloth.
Blinds
With such a great range to choose from, blinds are one of the most popular window coverings for homeowners across the globe. Like shutters, they too offer you a host of benefits.
Privacy
Blinds are ideal for providing you with complete privacy. In an age, where you increasingly feel that your privacy is constantly compromised these are ideal. Blinds can offer you total privacy for areas like your living room or bedroom.
Light
Control
Roller blockout blinds are ideal for your home if you wish to completely block all daylight coming into your home. Or you could opt for roller sunscreen blinds that allow you to control the amount of daylight coming into your home.
Home Decor
Blinds come in a variety of materials and colours, giving you flexibility over your decor. Such a choice allows you to match almost any fabric to the style of your home.
Ver
satility
Blinds are the most versatile window covering, as they easily fit in any room and space, including sliding doors and kitchen or bathroom windows.
The Verdict
There's no right or wrong choice, when it comes to choosing shutters or blinds for your home. It's more about what is best for you, depending on your individual needs and wants. Having trouble deciding? Speak to one of our experts. Contact Total Look Blinds.