The Benefits of Natural Light in Homes and Offices
Modern day humans spend an increasingly large amount of time indoors both at home and in the workplace. This is due to the significant number of sedentary jobs and the prolific use of computers for both business and recreational purposes. While minimising exposure to direct sunlight is good for preventing skin cancers, humans have a natural attraction and physical need for sunlight.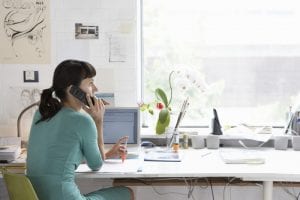 We have evolved to use sunlight to regulate our natural waking cycles. Disruptions to our natural exposure to natural light can have a range of physical and psychological health consequences. Consistent presence of natural light can help with everything from sleep and alertness to mood and cognitive performance.
Better Sleep
The impact of sunlight on our circadian rhythms is well understood. Sunlight is essential for sleep quality and sleep efficiency. According to Psychology Today, employees exposed to sunlight throughout the day in their workplaces get 46 minutes more sleep every night than those without. Sitting next to a window or getting light exposure across a well-lit room does wonders.
Improved Performance and Creativity
Whether at home, in the classroom or in the office, a brightly lit room is important for ensuring your mind is stimulated and concentrated. Unfortunately, fluorescent light takes the place of natural light in many situations, which simply doesn't help. Even a small amount of natural light can make a big difference in energy and productivity.
According to Cohere, offices with natural elements like greenery and sunlight are 15 per cent more creative than those without. Natural light is important for cognitive performance and creativity because of the role it plays in everything from mood and feelings of well-being to how awake and alert you feel.
Finding the Right Solution for Boosting Natural Light
Many homes and workplaces may limit natural light intentionally with curtains, blinds or shades on windows. This may be to prevent glare or excess heat. Innovative window dressing solutions like roller sunscreen blinds can help you better control the amount of light and heat that enters a space without eliminating it completely. Other options include shutters and Venetian blinds, both of which allow you to control light using horizontal slats.
Quality Shutters and Blinds in Auckland
Are you interested in quality light controlling blind installations? Auckland homes and businesses have counted on Total Look Blinds for a range of classical and modern blinds and shutters that offer practicality and style. From custom timber blinds for family homes to major commercial blind installations, Auckland's best is ready to help!
Find out more about choosing the right blinds or request a free quote today. If you have any other enquiries, call us on 0800 449 966 or contact us online.