The Best Blinds for Large Windows
Large windows are one of the nicest parts of any building, blending the comfort of indoors with the beauty of outdoors. They often form a focal part of the rooms they inhabit and breathe life into otherwise dead spaces. With that in mind, it is important to dress such windows in a way that blends both their interior and exterior environments in a complementary fashion. In this article, we will explain some tips for choosing the best blinds for large windows.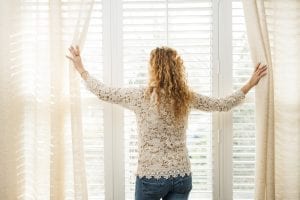 Framing
One way to think of large windows is in the same realm as a large work of art on your wall. Therefore, framing is important. In some rooms, Thermalite shutters on the outer edges of large windows help to break the edge effect. In other rooms, long curtains that hang to the floor are great for framing windows, particularly when they act to stop the flow of light through the corners.
If you are making a choice between vertical blinds and Venetian blinds, consider how each of these choices will interact with the view and whether it is better suited to horizontal or vertical panels.
Think about the Room
This is the most important factor in determining the right blinds for large windows. Whenever the window is closed, the blinds will occupy a large portion of the room. In the same vein as considering windows as works of art, consider how blinds can themselves be a work of art when they are deployed. While patterned and custom blinds can incur an extra cost, they can also make a stellar difference to the visual appeal of a room.
It's also important to consider how the interior décor of the room will interplay with the colour and design of the blinds you install. If you are going for a minimalist feel and want to enjoy the view while still maintaining privacy and insulation, then roller sunscreen blinds could be the ticket.
The Value of Blockout Blinds
Blockout roller blinds have the wonderful capacity to turn day into night, which is very important if you do shift work and need to sleep during the day. It is also important if you have large windows in your lounge room, office or wherever transforms into your cinema room and you want to watch television without glare or straining your eyes. Motorisation is always worth considering when installing more than one roller blind in a room, to turn the arduous task of closing them into a gleeful button push.
Quality Shutters and Blinds in Auckland
Are you after quality blind installations? Auckland homes and businesses have counted on Total Look Blinds to provide blinds and shutters that offer practicality and timeless style. From custom timber blinds for family homes to major commercial blind installations, Auckland's best is ready to help!
Find out more about choosing the right blinds or request a free quote today. If you have any other enquiries, call us on 0800 449 966 or contact us online.