The Best Window Furnishings for Beach Houses
New Zealand is home to a huge number of stunning beaches. Like any property, it's important to reflect the right atmosphere in the overall design, from the colours of the interior walls to the choice of furniture and blind installations. Auckland homes along the beach require window treatments that allow you to make the most of the view as well as letting in natural light and fresh air.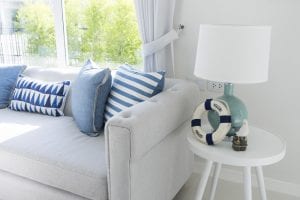 When it comes to beach houses, decorating is all about imitating the colour pallete of the surrounding environment and achieving a relaxed and uncluttered design. Achieving all of these aspects can be difficult. Below are some window furnishing solutions that will make your beach house pop.
Maintaining Beautiful Views
In many beach houses, a beautiful view is one of the central alluring features of the property. You want to be able to look out at the beautiful coastline, but you also want to be able to control how the place is insulated and how much light enters through. There are a couple of solutions that solve these dilemmas without interfering with the house design.
The first is translucent roller blinds. These sleek and elegant window treatments don't stop the eye, allowing you to maintain your view of the beach while giving you control over light and blocking excess heat and UV rays. Translucent blinds are available in varying degrees of translucent, depending on how well you want to see through them. Translucent blinds are often paired with another set of thicker roller blinds for complete privacy and light blocking.
The Importance of Durability
It's easy to forget the importance of durability when choosing window furnishings for your beach house. Things like salt air, strong winds and humidity can impact your beach house in ways that other inland properties don't have to deal with. Shutters are excellent for giving you control over lighting and fitting in naturally with the beach house style while being durable.
The key is to avoid timber shutters as wood is not great for withstanding coastal environments over a long period. Modern thermalite shutters have the look and feel of wood without being as prone to deterioration when faced with humidity and salt air. The superb white paint finish on thermalite shutters also ensures they won't yellow like other shutters.
Quality Shutters and Blinds in Auckland
Are you interested in getting some stylish beach house blind installations? Auckland homes and businesses have counted on Total Look Blinds for a range of classical and modern blinds and shutters that offer practicality and style. From custom timber blinds for family homes to major commercial blind installations, Auckland's best is ready to help!
Find out more about choosing the right blinds or request a free quote today. If you have any other enquiries, call us on 0800 449 966 or contact us online.