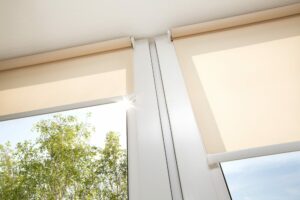 When functionality meets technology you get motorised blinds. Considered the future of light control, these futuristic blinds are the cutting edge technology of interior design. At Total Look Blinds, our motorised blinds are powered by Rollease Acmeda and include a mechanical stop, an electronic stop and wireless motors with special features such as shock detection when storing curtain fabric.
Our automated window covers are designed to be innovative and able to meet a variety of needs, as the importance of practicality and style come together. Convenience aside, motorised blinds are also the safest option for window coverings in Auckland as they eliminate the need for hand ropes or chains that can be hazardous if you have small children and pets. Always focussed on innovative ways to improve our products, our motorised blinds now include advanced technologies such as smart home integration.
The Automate range includes motors, controllers, sensors and smart home integration to create a variety of motorised blind solutions for homes in New Zealand. The Pulse Hub allows you to completely personalise your curtains with sunset and sunrise technology, plus automatic adjustment based on the weather. If that's not enough, you can integrate this range with Siri, Alexa and Google Home to operate the blinds with vocal commands.
So, which type of motorised roller blinds is best for you? We supply two types of blinds for existing homes and new builds. See which one suits you below:
Wire-Free: They are popular for installations in existing homes as you don't need an electrician and the installation can be completed quickly and conveniently. It can also be connected to Automate solar panels for recharging or recharged from power socket.
Wired: These need an electrician to wire them in, so they are normally used for motorised blind installations in new homes being built. They come in two models with the E range being AC powered motors and the M range being mechanical limit motors.
Now you know the elite motorised blinds products on the market and which type is right for your home, make the new year a time for change by adding a level of automated sophistication to your house. Contact us today for our consultants to visit you for a free measure and quote.