The History of Window Furnishings Throughout Time
Over time, window furnishing fashion has come and gone, then come back again. Some designs and styles remain classic, while others have made way for more modern versions of the original invention. Window furnishings have always been used as décor and a way to provide comfort and privacy in any space.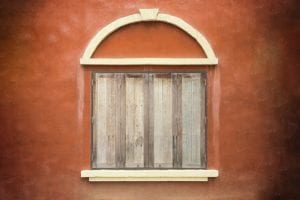 Take a walk down history lane and find out more about the evolutions of window furnishings here:
Shutters in England
England was one of the first places to use shutters as a way of filtering light and heat through windows. Over 500 years ago, many English homes used shutters that only covered half the window. These shutters would open during the day to allow light and air into a home, and then be closed again at night. Following the industrial revolution, shutters became increasingly popular as road traffic caused noise and pollution. Before then, shutters were only in wealthy homes, but with economic growth came another rise to the shutters industry.
In Australia, external shutters provided security as well as protection from the warm Aussie summer.
In the 60s, colonial style homes installed shutters as a decoration, and they soon became equally functional as they are decorative. Shutters are still popular amongst modern looking colonial style homes and have moved to being made from complex, advanced technological materials that are extremely long lasting, beneficial to the environment, and highly stylish.
Roman Blinds in Rome
They say Rome wasn't built in a day, and neither were its blinds. Roman blinds are said to have originated 2000 years ago before windows had glass. Romans would hang cloth from their windows that they could open and close to allow light and sunshine in and keep the dust and dirt out.
Later on, a drawstring was added so that the blinds could be opened and closed easily, allowing them to become both functional and decorative, and increase in popularity. Roman blinds spread throughout the Roman Empire, Europe, and eventually across the world. They are still used to create a particular aesthetic, and now come in a great range of styles, colours and fabrics to suit any home.
Venetian Blinds from Venice or Persia?
It would make sense to assume that Venetian blinds were invented in Venice. However, Venetian blinds actually originated in Persia but were discovered by Venetian traders. Venetian traders brought them back to Venice where they become very popular in homes. Venetian blinds became very popular in Australia and iconic of many Australian homes. These days, venetian blinds come in a range of materials and have evolved to be a décor piece in any modern home.
From History Comes Only the Best
Now you've learnt how far window furnishings have come, it's time to see the latest technologies in action! For your custom-built blinds or shutters in Auckland you can't go past Total Look Blinds. We have the most professional team to make your experience in adding beautiful blinds to your home satisfying. Contact us for your no obligation, free quote today. Give us a call 0800449966.