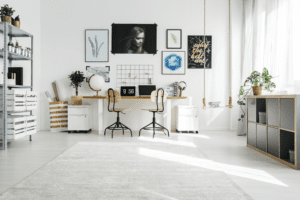 When you dream of your home makeover what do you think about? There is fun to be had in the details; new door handles, light switches, towel rails. You can buy new furnishings; sofa, bed frame, dining table. But the key areas that make the biggest impact are floors, walls and of course your windows. Windows are the eyes of your house, a feature that you can look out through or people can look in through. They gloriously bring the outdoors inside, connecting you with the rest of the world, but you'll want to balance that with maintaining your privacy. To makeover your home with new blinds or shutters we have 3 ideas for you.
ROLLER BLINDS
Roller blinds are simple and minimalistic. Fabric is rolled around a tubular roller and mounted in your window frame. As you pull the wind system the roller blinds unwind from the tube and the blind comes down to cover the window. We offer 3 types of roller blinds:
Blockout Blinds: With fabric that completely blocks out the sun, these blinds are perfect for bedrooms to create a dark and secluded environment to eliminate the bright lights of the outside world. They add a touch of class to any home or office while offering full privacy.
Sunscreen Blinds: Our great range of roller sunscreen blinds enable you to control the daylight and reduce the amount of heat and glare entering your home whilst not taking away your view.
Translucent Blinds: These blinds protect against heat and glare without blocking light. Perfect for maintaining natural light in your home in living rooms and large spaces that require privacy. They filter light, but you cannot see through the fabric.
VENETIAN & VERTICAL BLINDS
For a more classic looking blind, these options offer your adjustable privacy and light control.
Venetian blinds: These horizontal blinds offer excellent light control and privacy. Our Venetians are made from thick aluminium slats for greater strength and the Privasee crimp allows for easier closure.
Vertical blinds: For optimal control over the light entering your home, vertical blinds are a great choice. To add that extra little bit of style, choose from a huge range of colours and styles.
WINDOW SHUTTERS
Our Thermalite shutters offer a real sense of class to a house. With a paint finish that doesn't yellow from sun damage, the exclusive world patented Ultraclear system has no visible control rod, offering an uninterrupted view. Maintenance on these is almost non-existent. They've never require tightening or adjusting and have the longest and most comprehensive warranty in the window covering industry.
With the look and feel of wood, they have several major advantages, being made from 100% renewable synthetic material meaning no natural resources are destroyed in the manufacturing process. They're actually made from dense polymer foam which is water-resistant and fire retardant, providing 2-3 times the insulation wood shutters offer.
Within these three choices lie plenty of different styles and options, including motorised blinds for effortless remote control. Whatever your needs, Total Look Blinds are here for you. Contact us today to get started on your home makeover.