If you're deciding on window coverings for your home or business, a major decision is to choose whether you'd like timber or PVC blinds. Aside from their look, there are some key differences between the two. Here at Total Look Blinds, we've put together a handy guide to help you decide which style is more suitable for you.
Pros and Cons of Timber and PVC Blinds
When it comes to timber and PVC blinds, you will find that both make great window coverings for your home, business or both. However, both options have pros and cons which you should be aware of before making your purchasing decision.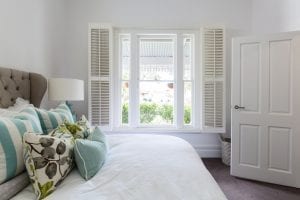 Pros of Timber Blinds
Timber blinds offer you the following benefits for your home or business:
Classic Design Aesthetic
Timber blinds can lend a sense of elegance and warmth to any room, with their classic design aesthetic that suits a range of interiors. They embody a gorgeous natural style that is seen by many to be timeless.
Strong and Lightweight
Timber blinds are extremely strong whilst also being very lightweight, traditionally more so than PVC blinds. Not only does this allow for increased durability, it also allows for your blinds to be of a greater width without the risk of sagging.
Environmentally Friendly
Timber used to produce timber blinds is harvested from trees specifically grown for the manufacturing of these window coverings. This makes them a more environmentally conscious product over PVC blinds which have a more of a carbon footprint.
Insulation
Timber blinds are excellent for insulation, as they keep interiors cool in the hot summer months and warm in winter.
Cons of Timber Blinds
The following are the main downsides to timber blinds to consider.
Higher Cost
Traditionally timber blinds have been seen as a more superior and desirable product than PVC blinds so they have a higher cost.
Maintenance
Timber shutters may need repainting or touch-ups over time as timber even high-quality type is prone to peeling and fading in colour.
Pros of PVC Blinds
PVC blinds offer you various benefits, some of which are listed here.
Durability and Lightweight
PVC blinds are designed to resemble timber blinds. The material is known for its durability and light-weight characteristics. You will have trouble telling the difference between PVC blinds and timber blinds.
Good Pricing
PVC blinds are available for a fraction of the cost of timber blinds which makes them more budget friendly for your home and commercial premises.
Good for Wet Conditions
PVC is better than timber for wet areas as it's more durable and can withstand moisture. Therefore, PVC blinds are commonly used in wet areas where they come in direct contact with water, such as next to a shower.
UV Protected
PVC blinds are UV protected so unlike with timber blinds, only slight fading can occur, and they are fire resistant compliant.
Cons of PVC Blinds
The following are the downsides to PVC blinds.
Limited Slat Option
Unlike with timber Blinds which come in both a 45mm and 60mm slat option, PVC blinds come in just a 50mm option.
Not Natural
They are not made of a natural material like timber, however due to the high manufacturing standards these days, they can be made to look like timber blinds.
Introducing the Thermalite Shutter
Similar to PVC, a dense polymer foam makes up the Thermalite Shutter, a much more superior product than both timber and PVC put together. Manufactured in New Zealand, it offers you all the benefits discussed above for PVC and timber blinds, but at a much higher rate.
You can see that both timber and PVC blinds along with the Thermalite Shutter make great window furnishings for your home or business. To further see which solutions are best suited for you, contact the shutter experts at Total Look Blinds today.