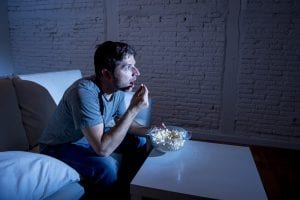 When thinking of blockout blinds, many people think of their application in the bedroom; to aid in blocking any external light, creating absolute darkness for a better night's sleep.
Of course, this is the most common use for blockout blinds but their ingenious applications don't stop there.
Whether it is a luxury or a necessity, there are many reasons you may choose to install blockout blinds in your home or commercial environment.
Here are four handpicked times you may need blockout blinds:
 Presentations at the Office
Blockout blinds aren't just for use at home. The commercial application of blockout blinds is common in many offices, with blinds installed in the boardroom to easily create darkness for presentations.
Assuming you work the typical 9am-5pm, it's going to be light outside while you're in the office. This makes the use of projectors or even TV screens a little awkward.
Try presenting an important pitch when your audience is struggling to see your presentation. Blockout blinds help to keep visibility crisp, thus keeping your audience engaged.
 Movie Marathons at Home
There are few things more frustrating than watching a detailed, in-depth film and missing major pieces because you can't see the screen properly. If you're a film buff and you enjoy gathering friends and family for film nights or days, blockout blinds can take the experience up a notch. Create a cinema-like ambience without leaving the comfort of your living room.
 Recreating the Night for Shift Workers
After working a shift all night, getting to sleep in the sunshine can be a nightmare. You will also be disoriented as you wake from your sleep, only to see the light outside.
Blockout blinds are a great way to recreate darkness, helping you to stay asleep and easily go back to sleep if you do happen to stir.
 Keeping Baby Comfortable
Many people discover blockout blinds when they have children. Darkness triggers the brain to release melatonin, which is the sleep chemical.
On the other hand, light is like pushing the 'start' button on your baby, triggering them to become more alert and wakeful.
Installing blockout blinds in your child's room helps them to get to sleep and stay there until they are fully awake, rather than being confused by the light.
Whether you're after roller blinds, PVC blinds, or custom Thermalite shutters, Total Look Blinds can help. Carolyn and Greg have been servicing the Auckland community for more than 20 years, offering locally made window furnishings.
For more information on our range of products and services, or to arrange a free consultation, please contact us on 0800 449 966 or submit an enquiry on our website.