When to Repair and When to Replace Your Blinds
Sometimes it can be difficult to determine whether you should replace or fix your faulty, broken or aging blinds. The right choice depends on a range of factors. Some window treatments are highly durable and last ages while others fade and malfunction sooner. On average, most people replace their blinds every 7 or 8 years. Below are some signs that your blinds either need fixing or replacing.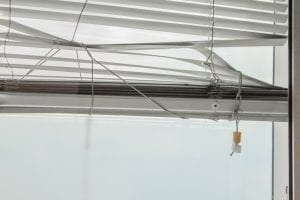 Fixable Problems
The mechanisms used in blinds to lift, lower and tilt them can sometimes malfunction. This can be an easy fix at times. For example, if blind slats don't lower, you can locate the cord lock mechanism in the headrail where the lift cords run through and push the pin in it to disengage the cords.
Other times, the tilt rod can become disconnected from the tilt mechanism in the headrail, causing it to move while the slats stay in place. Mechanisms such as a wand tilt can be replaced when they become faulty. So long as there isn't severe damage to the blinds, you or a professional can repair your blinds so they are working as new.
Warped Blinds
Sometimes no repair job can bring blinds back to life. One example is when blind slats become warped or misshapen due to heat damage or humidity damage, both of which prevent the blinds from raising and closing correctly. If one or two slats are warped, they can be replaced. However, if they're all wonky, it's best to replace the whole set.
Discolouration
Blinds often experience some fading from the sun, although newer materials offer more UV protection. Fabric window treatments are especially durable while timber is prone to weathering. If your blinds have dramatically discoloured or yellowed, this can be a sign of material deterioration. Your blind slats are losing their structural integrity and should be replaced.
Frayed Edges on Fabric Blinds
Fabric roller blinds can experience fraying on the edges when they get old or if they are too wide for the window opening and are scraping along the side of the frame. Unfortunately, there isn't much that can be done once the fabric starts fraying. It's best to replace the whole set.
Quality Shutters and Blinds in Auckland
Are you after quality blind installations? Auckland homes and businesses have counted on Total Look Blinds to provide blinds and shutters that offer practicality and timeless style. From custom timber blinds for family homes to major commercial blind installations, Auckland's best is ready to help!
Find out more about choosing the right blinds or request a free quote today. If you have any other enquiries, call us on 0800 449 966 or contact us online.