Why Is Insulation Important on Windows?
Windows are an essential but costly feature of any property, especially when it comes to heat loss in cold weather and heat gain in warm weather. Inadequate window insulation can decrease the energy efficiency of your home by 50 per cent, meaning your heating and cooling systems have to work harder to keep the interior at a comfortable temperature.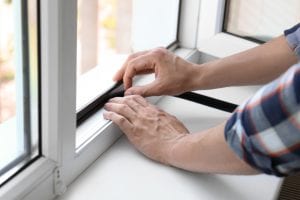 There are two key ways of preventing heat loss and heat gain through your windows. The first is by having thicker, double glazed glass windows. Of course, the simplest solution is to ensure your blinds and shutters offer high performance insulation. Improving insulation will reduce costs and benefit the environment by reducing emissions.
How Heat Loss/Gain Occurs
Cool and warm air can escape through your windows in a number of ways, including:
Air leaking in and out through gaps along the edges of edges and doors
Heat and cold passing through the window glass through conduction
A radiation effect where heat flows from warm objects toward cooler ones, balancing the inside temperature with the outside.
Effective window insulation can prevent these effects, allowing indoor temperature to be regulated easier.
Best Approaches to Insulating Windows
Anything that completely covers your windows will improve insulation. Some studies suggest the most effective approach is insulating the home and windows from outside by using fabric awnings or roller shutters. This approach isn't the most practical for many families however.
Timber blinds are great for keeping heat in and out as wood is not the best conductor of heat. The blinds must be able to close completely however. Thermalite shutters in light colours are also excellent, especially for coping with heat.
Roller blinds are another great choice. Ideally, you want a dual roller blind. This involves having one blockout blind, which is excellent for keeping everything from light and temperature from penetrating the home, combined with another lighter blind. The lighter blind helps you cover your windows with a mildly transparent material, so you can let the light in without letting undesirable temperatures in at the same time.
Quality Shutters and Blinds in Auckland
Are you after quality blind installations? Auckland homes and businesses have counted on Total Look Blinds to provide blinds and shutters that offer practicality, style and insulating properties. From custom timber blinds for family homes to major commercial blind installations, Auckland's best is ready to help!
Find out more about choosing the right blinds or request a free quote today. If you have any other enquiries, call us on 0800 449 966 or contact us online.