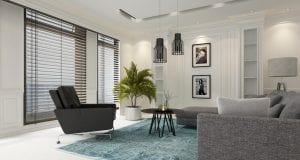 Keeping your house warm in the winter months can be difficult to achieve without running up your electricity bill. Uncovered windows allow 30% of your home's natural heat to escape while relying on a heater is costly and can lead to prolonged sickness caused by dry air.
Installing blinds is an economic and environmentally friendly way to trap the sun's heat. If you want to keep warm in the cold weather, this article will weigh up some of the best options for you to consider.
Stylish Blinds for Trapping Heat in Your Auckland Home
Heavy curtains are excellent for ensuring insulation but they can often look outdated and are an ordeal to clean. They also harbour dust and allergens, which can threaten the health of your family. More homeowners across New Zealand and Australia are opting to install blinds to keep their homes comfortable throughout winter.
Your choice of opacity will dictate the degree of insulation that your blinds offer. Translucent, sheer blinds deflect harsh light and block harmful UV rays while still allowing natural light to enter. Block out blinds allow you to completely control the room's light while keeping your house warm in winter and cool in summer.
Benefits of Roller Blinds for Insulation
Translucent roller blinds are a functional option with an attractive, minimalistic look, especially on large windows that commonly allow a lot of heat to escape a room. Choosing to motorise your roller blinds will increase the value of your home while adding a touch of efficient elegance to the room.
A roller blind with block out fabric is a reliable option for maximising heat retention in winter and maintaining your family's privacy. If you're considering installing roller blinds, have a look at these helpful FAQs.
Benefits of Sunscreen Blinds for Insulation
Sunscreen Blinds are a perfect addition to living areas because you can still admire the view without being subjected to UV rays or worrying about faded furniture.
Although they do not provide a substantial amount of insulation, pairing them with a block out or roller blind will give you absolute control over the insulation of your room without sacrificing the attractive design of your home. Day/night blinds can be installed at the same time and are a cheaper, more functional alternative to curtains.
How to Maximise Block Out Blinds as Insulation
As we mentioned before, block out blinds are the most efficient option for controlling light exposure and heat retention in winter. Use your blinds wisely to keep the heat in at night. Open your blinds during the day when it is sunny and allow the winter sun to fill your room.
Then, as the night rolls around, close the blinds to trap the warmth inside the house. If it is too cool, pair the closed blinds with a heater to keep the cold out.
Thermalite Shutters – for the Most Effective Insulation
While they are not blinds, Thermalite Shutters are by far the best window coverings for superior insulation. Made from a non-toxic, synthetic and 100% recyclable material, Thermalite Shutters retain the classic timber look while boasting three times the insulation of their wooden counterparts.
With an R-value of almost 3, these attractive window coverings are sure to keep your home cool in summer and warm in winter!
To get a free quote and assess the highest quality options this winter, contact Total Look Blinds online or call 0800 449 966.